"Readers" Ride Photo Gallery
Here are my personal FJ40, John Carroll's, and Gordon Silaski's
---
My Baby, 1976 FJ40
This is my personal cruiser. It has taken me six years to get it to this point. It's career with me started as a mustard yellow rust bucket with the stock drive train. The very first thing I did was re-arch the springs (big mistake) and replace all the tie rod ends. Next up came an interior clean up and an extensive inventory of what was needed to refurbish the cruiser. I then purchased and installed a header and re-skinned the rear of the truck from a pillar to a pillar including welding in a new rear channel. It was about this time me and Bryant met and I started working for him part time. It was like being in a candy store. I digress.
The engine bay houses a 1997 Vortec 350 with helix plate, cpu upgrade, custom aluminum engine bracket for a serpentine setup, a custom aluminum reservoir for the steering fluid, a Black Magic electric fan drawing air over a custom five core radiator, K&N Filter Kit, corvette manifolds with a 3" exhaust system, stainless steel brake lines, the ARB compressor, and an Optima Yellow Top covered in a marine case.
Power reaches the ground via to a 6.34:1 version NV4500 mated to a three speed transfer case. The axles are stock 4.11's both stuffed with ARB air lockers. The front axle has the Marfield birfields. The suspension is an Old Man Emu from ARB, with anti inversion lift shackles. A correction kit and a power steering conversion are mounted up front. Stopping is done through four wheel disc brakes.
The seats are all trimmed in gray Marine vinyl, powder coated frames, and stainless fasteners. The interior has a sprayed-on liner, a Clarion Marine CD player with cage and dash mounted speakers. The instruments are in a custom cluster using VDO gauges and a custom brushed aluminum switch panel sits center stage. The roll cage is my own personal design and has 2" thick walled tubing, grab handles, reverse light mounts, and is powder coated gloss black.
The exterior was completely stripped, epoxied, primed, wet sanded, sealed, based, cleared, and color sanded in a custom color. The entire exterior is trimmed in stainless fasteners. The front bumper is also a personal design with Warn 8274-50 mounted through the tube, a receiver hitch, four light tabs, d ring mounts, and a cooling system for the steering gear.
I love this truck. It is an everyday driver that will play with the big boys, gets good gas mileage, and is too much fun to drive both on the road and off.
---
John Carroll's Sweet FJ62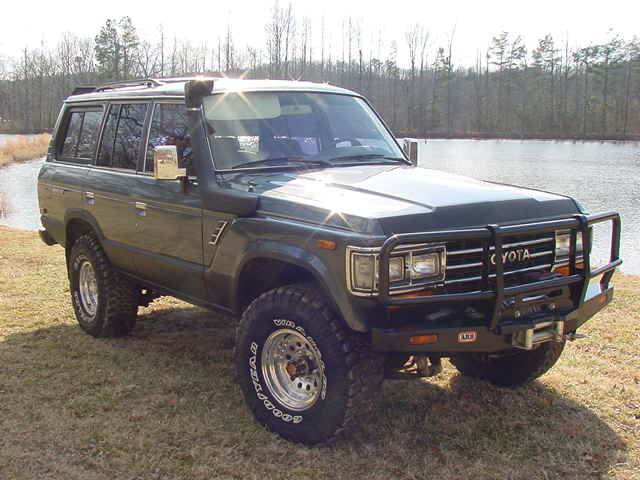 John's cruiser is his everyday driver but what is really cool is that he tries to wheel it somewhere every week. It has a Vortec 350 power plant with a helix plate and harness from Street & Performance Electronics. Air is captured by an ARB snorkel and a custom air filter box stuffed with a K&N filter all connected by neoprene flexible ducting. We used Corvette exhaust manifold (because they center dump) and 3" pipe to move out the exhaust. Power is put to the wheels via a built 700 R4 and the stock xfer case. Front and rear air lockers inside the factory differentials relay the traction of the 33x12.5 Goodyear Wrangler MTR's to the trails. The bumps are dampened and controlled by a complete OME suspension system.
One of our rules about conversions can be seen in the photograph of the interior; "Make it look stock". People stop him or give him a "thumbs up" everyday and when John calls he tells us short stories about how well the truck performs. I don't know if John is more proud of the truck than we are.
---
Gordon Silaski's FJ40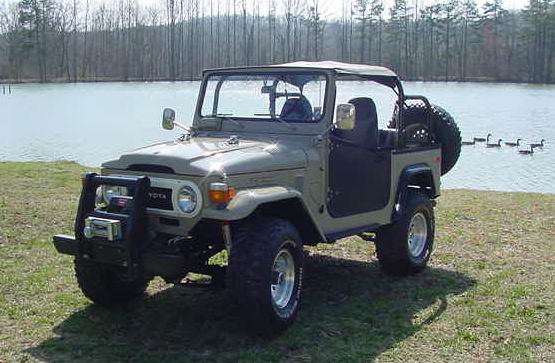 Gordon is a local banker (and a very good body man, he did all the painting and refinishing work) who does a lot of hunting. He desired a very capable and reliable truck and here we are. This truck is all tucked in. It is cherry. It is sweet. And I am jealous.
The truck is powered by a TBI 350 with a New Venture five speed transmission. We used factory manifold that center dump and a 3" exhaust system. We had a five core radiator put inside the Toyota cap tanks for cooling. The engine is managed by a Street & Performance Electronics harness and computer. The rest of the wiring was completely redone by me with every thing put in its place. Every thing we could powder coat we did: the frame, the roll cage, the seat frames, the heater core assembly. We even had the guage cluster, the ashtray cover, and the glove box door powder coated silver. The truck has new everywhere. Lights, emblems, trim, and weather-strip are all new. The tail gate is a toolbox and just in front of the gate is very functional bench seat. Yep, I am definitely envious.
Gordon's next project is to finish his hard top and doors. When he gets it all together I'll post some additional pictures.
The Cruiser Company
Copyright © 2000 The Cruiser Company. All rights reserved.
Monday, December 20, 2010 02:33 AM